Day in the life
Children are welcomed at the door by Miss Zara at 9.30am and are encouraged to shake hands and say "good morning." This helps to develop confidence, good manners and instill routine.
Each week there is a new topic which is explored through out the timetable. This provides a consistent theme to the week's activities, which also encompass the seven areas of learning set out by Ofsted in the Early Years Foundation Stage.
Sample timetable
| Monday | Tuesday | Wednesday | Thursday | Friday |
| --- | --- | --- | --- | --- |
| Free Play | Free Play | Free Play | Free Play - Home Corner | Free Play |
| Chat on the Mat | Chat on the Mat | Chat on the Mat | Chat on the Mat | Chat on the Mat |
| Story & Break | Story & Break | Story & Break | Story & Break | Story & Break |
| Music & Instruments with Miss Yvonne | French and Games | Cookery | Ballet | Music & Movement |
| Outdoor Play | Outdoor Play | Outdoor Play | Outdoor Play | Outdoor Play |
Subject to change due to weather etc.
Free Play
This incorporates a variety of activities that are linked to the seven areas of learning, and are changed on a daily basis. We pay particular care to ensure that each child's interests are explored and that they are stimulated whilst still following the curriculum. The seven areas of learning are:
Communication & Language
Personal, Social & Emotional Development
Physical development
Literacy
Mathematics
Understanding of the World
Expressive Arts & Design
Following Free Play all children participate in tidy up time, this encourages:
team work
sorting skills
discipline
numeracy/counting skills
vocabulary and language skills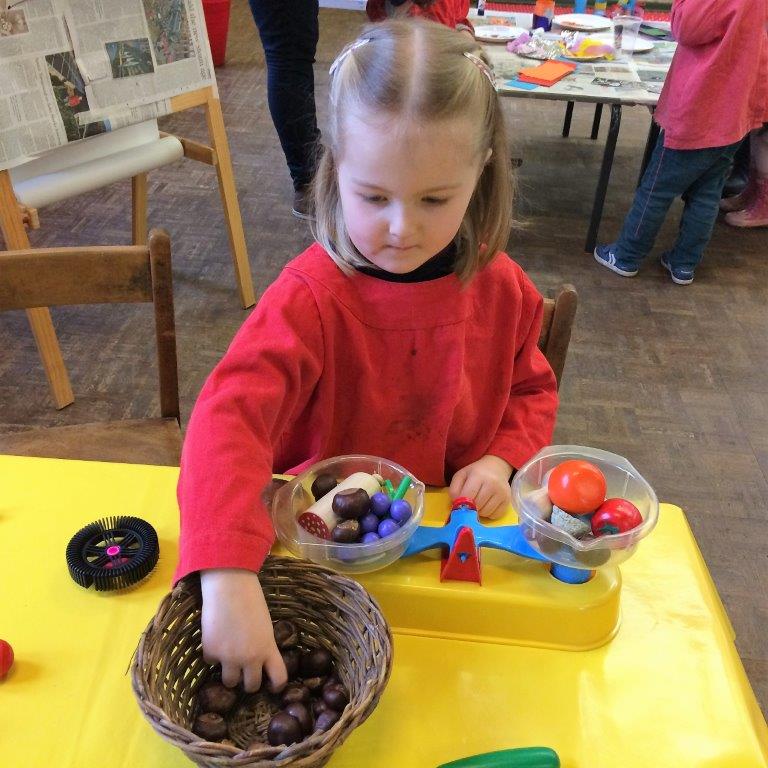 Chat on the Mat
Register - This encourages children to listen and to respond at the appropriate time.
Weather board – The children look at and discuss the weather each day, including learning about the days of the week, the months and changing seasons. This helps develop their descriptive communication and observation skills.
Sharing their news – This is wonderful for expanding their vocabulary, learning how to communicate and listen to others, and for building the children's confidence.
Story Time and Break
Story time – The children congregate on the mat everyday to enjoy a story. The stories are selected to enhance their listening skills, develop their imagination and ability to solve problems.
Break - Whilst the story is read children enjoy choosing and sharing the different fruits that are brought in by parents each day. This encourages a healthy and varied diet whilst allowing them to explore different textures, colours, new tastes and also expanding their vocabulary.
Daily Activities
Within the weekly structure there then follows a daily activity. These include:
Music and Movement
French
Music and Instruments
Gardening
Cookery
Ballet
Outdoor Play
This happens either in the courtyard playground or the secure garden.
Collection Time
At 12.30pm children wait on the mat to be called to shake Miss Zara's hand and are encouraged to say "goodbye" before being handed back to their parent or carer.
Afternoon school is available depending on termly demand.